50th Anniversary of the Moon Landing
July 17, 2019
Comments : Comments Off

on 50th Anniversary of the Moon Landing
All eyes will be on Houston, the home of human spaceflight, as the world celebrates the 50th anniversary of the Apollo 11 lunar landing and Neil Armstrong's first steps on the Moon on July 20. There are many events, experiences scheduled and limited edition products & collectibles available to pay a tribute to the 50th anniversary of the first moon landing. We have compiled a list of these limited edition anniversary items for you.
The Apollo 11 mission rooted in Houston's past, when President John F. Kennedy announced U.S. space exploration efforts at Rice University in Houston, the city became part of the national dialogue about how and when we would put a man on the moon.
Apollo Anniversary Celebration
Space Center Houston is the perfect setting to celebrate all things Apollo 11, with concerts, special events planned in South Houston. The first 15,000 Apollo celebration guests receive a commemorative LED wristband that glow throughout the indoor experience, during the concert and the official first steps countdown at 9:56 p.m. For a list of events & ticket information, visit spacecenter.org/apollo-50
USPS Moon Landing Forever Stamps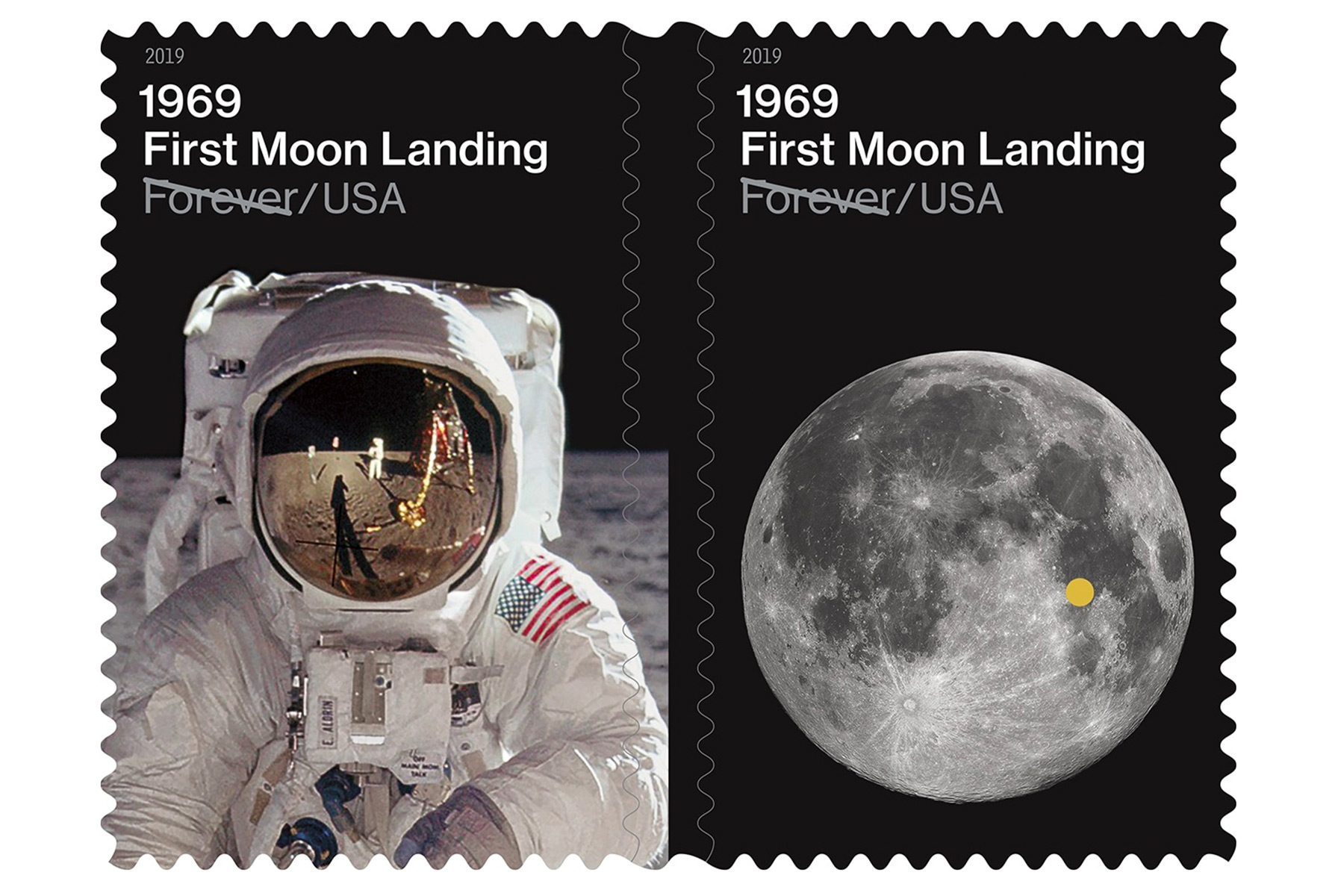 U.S. Postal Service revealed two stamp designs commemorating this historic milestone that features a photograph of Apollo 11 astronaut Buzz Aldrin in his spacesuit on the surface of the moon and a photograph of the moon taken in 2010 by Gregory H. Revera of Huntsville, AL, shows the landing site of the lunar module in the Sea of Tranquility.
Marshmallow Moon Oreos & Zero Gravity Blizzard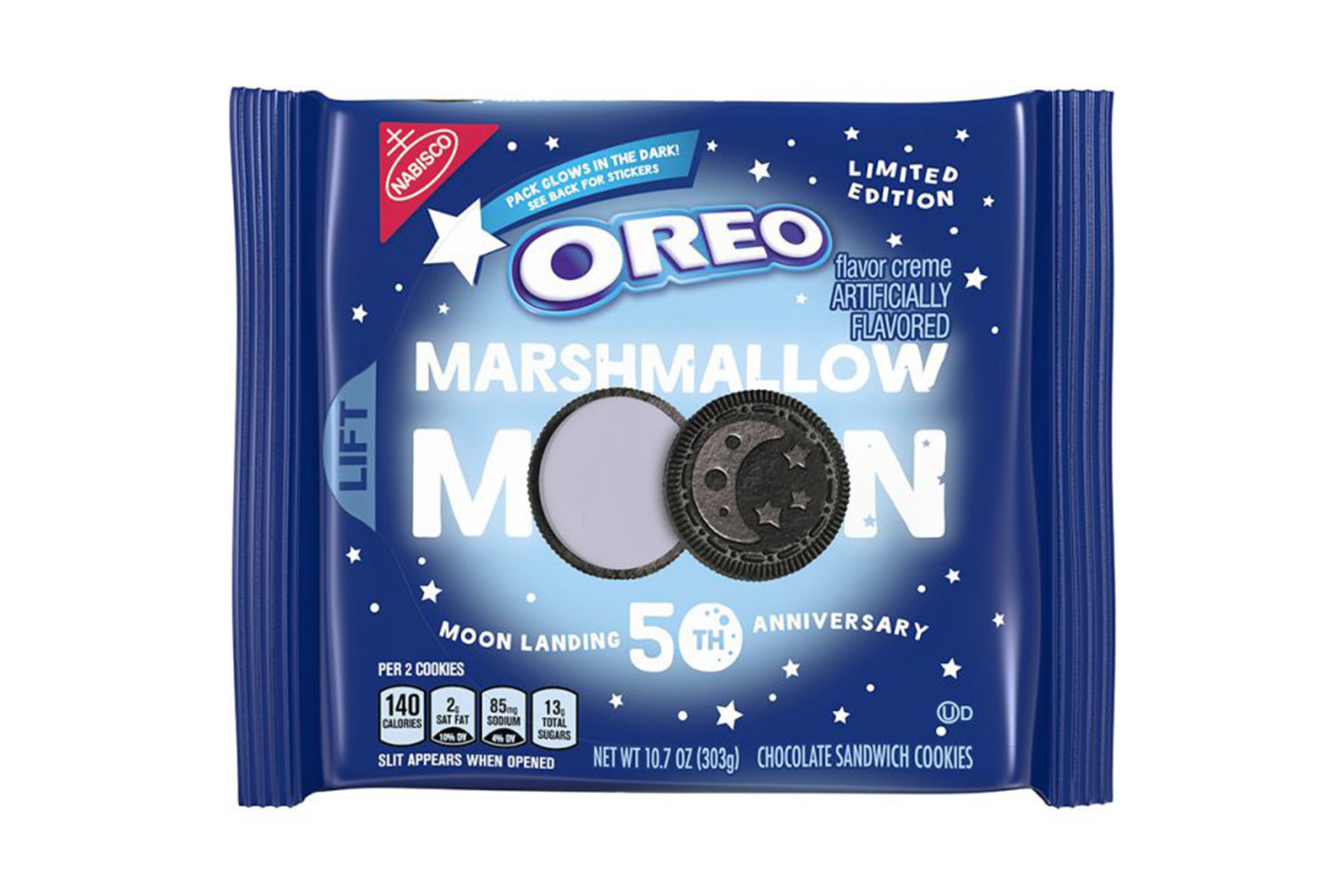 Nabisco now offers limited edition Oreo Marshmallow Moon cookies that feature three moon landing designs on the cookie with purple marshmallow creme inside. In addition, the cookies come in glow in the dark packaging with anniversary sticker sets on pack.
This special cookie is also used in the limited edition Dairy Queen "Zero Gravity Blizzard".
"One small bite for man. One giant leap for doughnut-kind!"
Krispy Kreme is celebrating the 50th anniversary of the first moon landing with the launch of a new type of doughnut. A twist on its classic Original Glazed doughnut, Krispy Kreme is now offering a choice of two fillings: "Classic Kreme" and "Chocolate Kreme."
United Airlines
United Airlines Commemorates Fiftieth Anniversary of Moon Landing with Celebratory Flight, Specialty Menus and An Opportunity to Visit NASA's Johnson Space Center. United is now offering special inflight entertainment channel with 17 dedicated space-related programs developed by NASA will be accessible on all flights with seatback and personal device entertainment. The channel features documentaries about NASA's push to the Moon, views of Earth from the Space Station, action cam footage of NASA astronaut spacewalks and more. Two of the restaurants in United's terminals at George Bush Intercontinental Airport (IAH) in Houston – Ember and Tanglewood Grille features dishes throughout July inspired by the food items the astronauts ate on board Apollo 11. United is offering many more Moon Landing themed experiences, including a social media contest, inflight gifts and VIP access to Space Center Houston for United MileagePlus members. Visit hub.united.com for more information.