'FlyWithKay' lands at CXO Airport for a $100 Burger!
April 4, 2023
Comments : Comments Off

on 'FlyWithKay' lands at CXO Airport for a $100 Burger!
You may know Kay Hall from her popular videos on social media, featuring her 'Lil Red' a 1968 Piper Cherokee 180 with her logo "FlyWithKay".
Many young people dream of becoming Social Media celebrities – Kay dreamed of becoming a Pilot, and now with millions of followers, subscribers and fans across many different social media platforms including TikTok, Instagram, YouTube and Facebook – Kay is an Aviation Social Super Star!
Kay's dad, Mr. Beau Hall was the inspiration behind her getting into aviation. Mr. Hall has a pilot license, and influenced Kay to take her first introductory flight, which started it all. More than just a short video or reel – Kay has a positive ever-lasting impact on women pilots by serving as a role model and a mentor. She has been actively involved in promoting aviation to young people and women and has been a member of organizations such as Women in Aviation International and the Ninety-Nines. Through her "FlyWithKay" program, she has provided an insight into general aviation aspiring young pilots. Kay Hall's dedication to promoting aviation and providing opportunities for women in the field has undoubtedly had a positive impact on the lives and careers of many women pilots.
Texas is a great state for general aviation and new pilots with its favorable weather conditions and its large amount of airspace including numerous airports – such as the Conroe North Houston Regional Airport featuring inexpensive full and self-service AvGas fuel availability. Most importantly Texas boosts a supportive aviation community with numerous aviation organizations and clubs, providing opportunities for networking, mentorship for new pilots. Kay enjoys what Texas has to offer for new aviators, and regularly shares her flying experience online; most recently a special $100 burger run from her own base in Sugarland in Southwest Houston to Conroe in North Houston.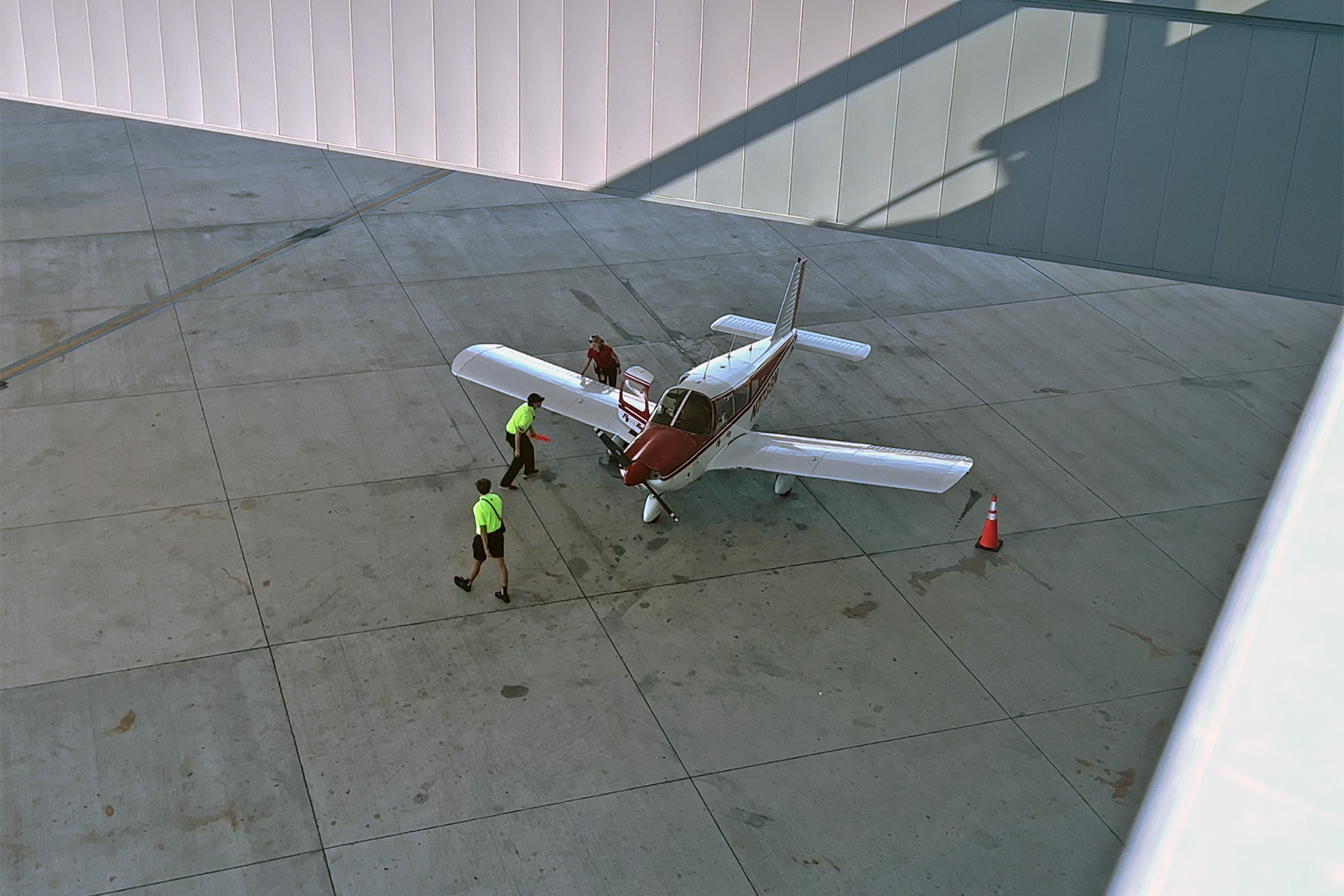 After a short trip over the Houston airspace, Kay recently landed at the CXO Airport for a late lunch at the Black Walnut Cafe. Her experience was a bit different than regular airport diners, as the Black Walnut on the third floor of the Galaxy FBO offers beautiful views of the airport runway 14-32, and of course a great unmatched American classic beef patty burger with high quality ingredients. To view the FlyWithKay Youtube video, click here or watch it below:
Social media has had a significant impact on the aviation and is increasingly influencing the career paths of future pilots by giving them a platform to create their personal 'resume' and promote themselves. And today Kay is racking up the necessary hours for her pilot license on her Piper Cherokee 180. This aircraft popular among flight schools and new learners due to its design features and flight operations. While Piper Cherokee is easy to be maintained, affordable to operate, it's liked by many new learners for its forgiving flight characteristics. Kay regularly shares her experience with her 'Lil Red' online from an owners perspective.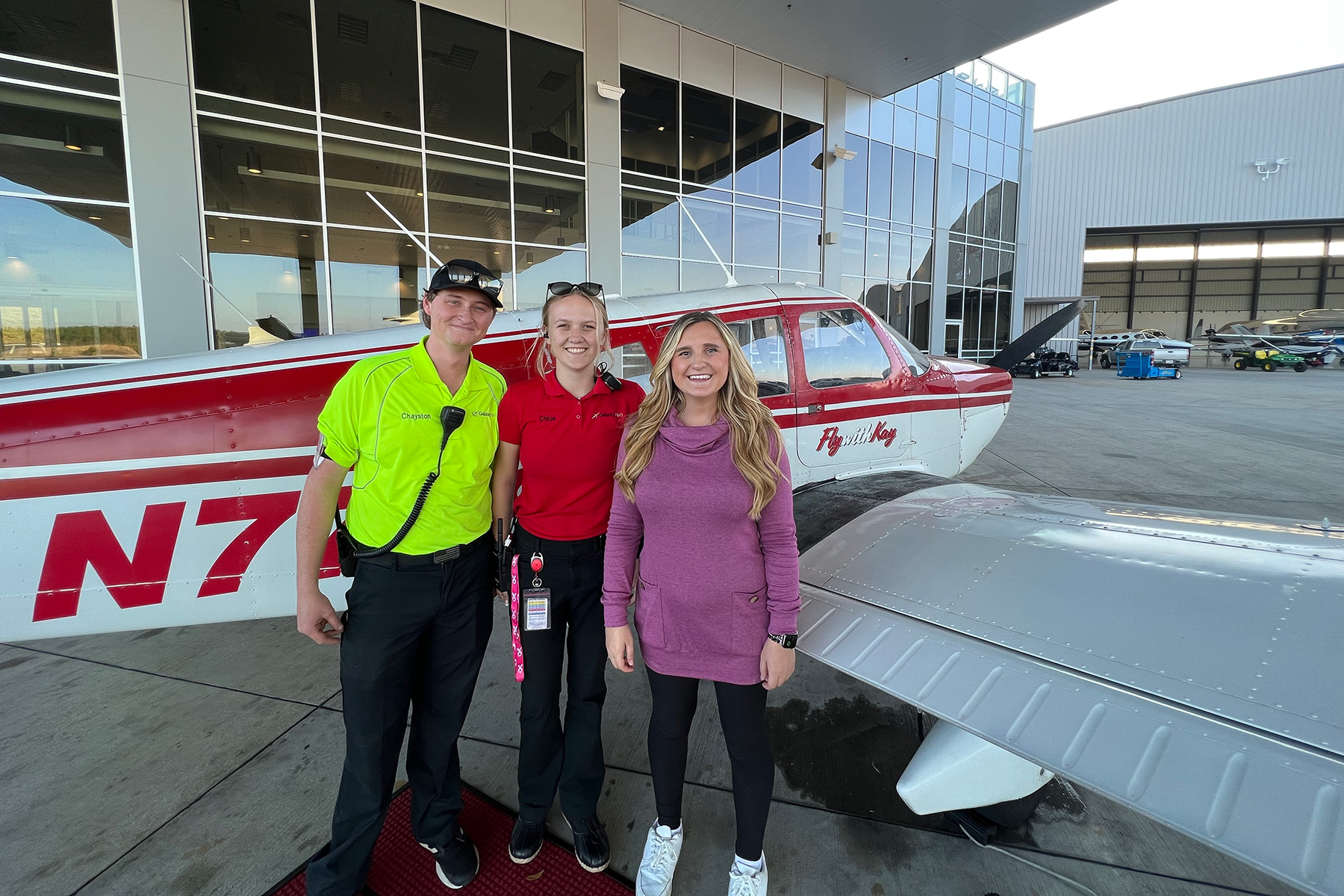 For more information on Kay Hall, to purchase her book and to follow her on social media; visit her website at flywithkay.com/links