18 Unique Aircraft that Visited Galaxy FBO in 2018
December 28, 2018
Comments : Comments Off

on 18 Unique Aircraft that Visited Galaxy FBO in 2018
Galaxy FBO had its fair share of interesting aircraft visit us in 2018. While we served many, we wanted to highlight a few – just 18 – of the aircraft that came through.
---
Northrop T-38 Talon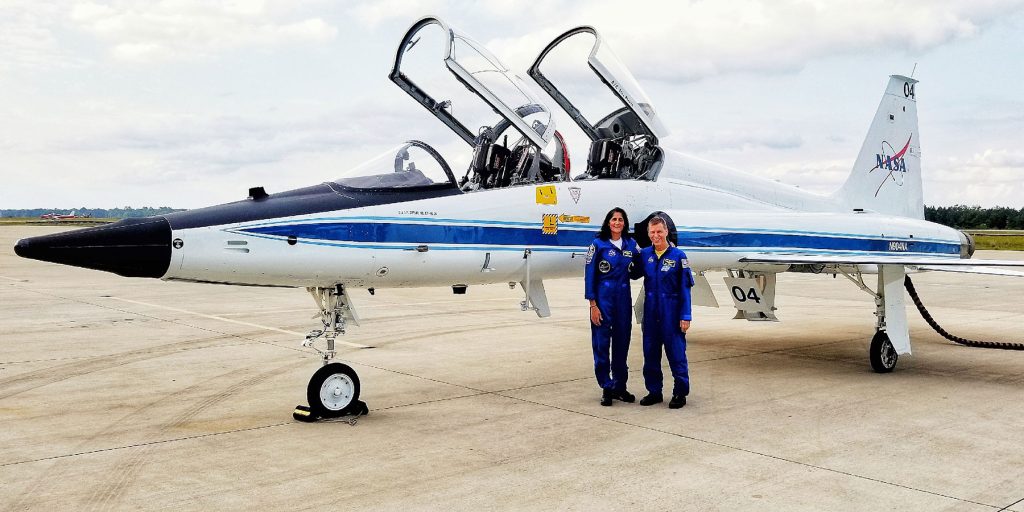 The T-38 was produced between 1961 and 1972 with about 1,100 built. NASA has 32 in its fleet and they are primarily based at the Ellington Field in Houston. With a top speed of over 800 miles per hour, the T38 was traditionally used by NASA in the Space Shuttle era for Astronauts to arrive at Kennedy Space Center. We had the pleasure at Galaxy FBO to meet T-38 pilots and astronauts Sunita Williams and Gregory Harold "Box" Johnson. Williams holds the record for the most space walks from the international space station, and Johnson holds the speed record for the Space Shuttle at 5 miles per second!
---
A-4 Skyhawk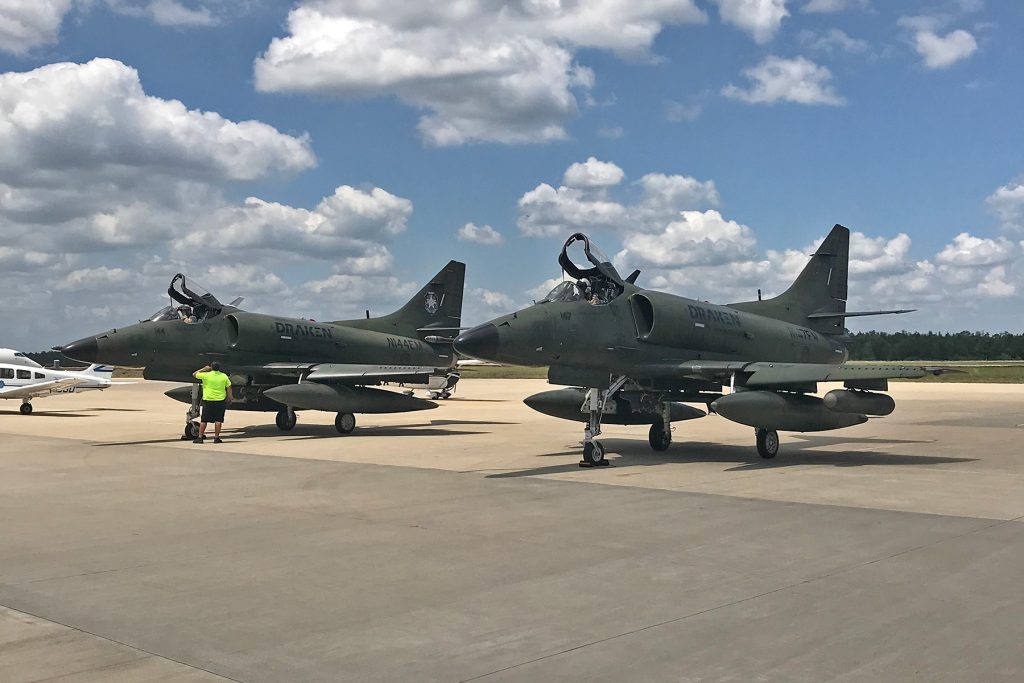 A-4 Skyhawk was developed in early 1950s and featured many new technologies for fighter aircraft such as; an air-to-air refueling probe, auto pilot, terrain clearance radar, and a low-altitude bombing system. The Air Force retired A-4 Skyhawks in 2003, and a few privately-owned Skyhawks are still in operation. Owned by Draken International, these Skyhawks are utilized today to support tactical military air missions around the world.
---
ICON Aircraft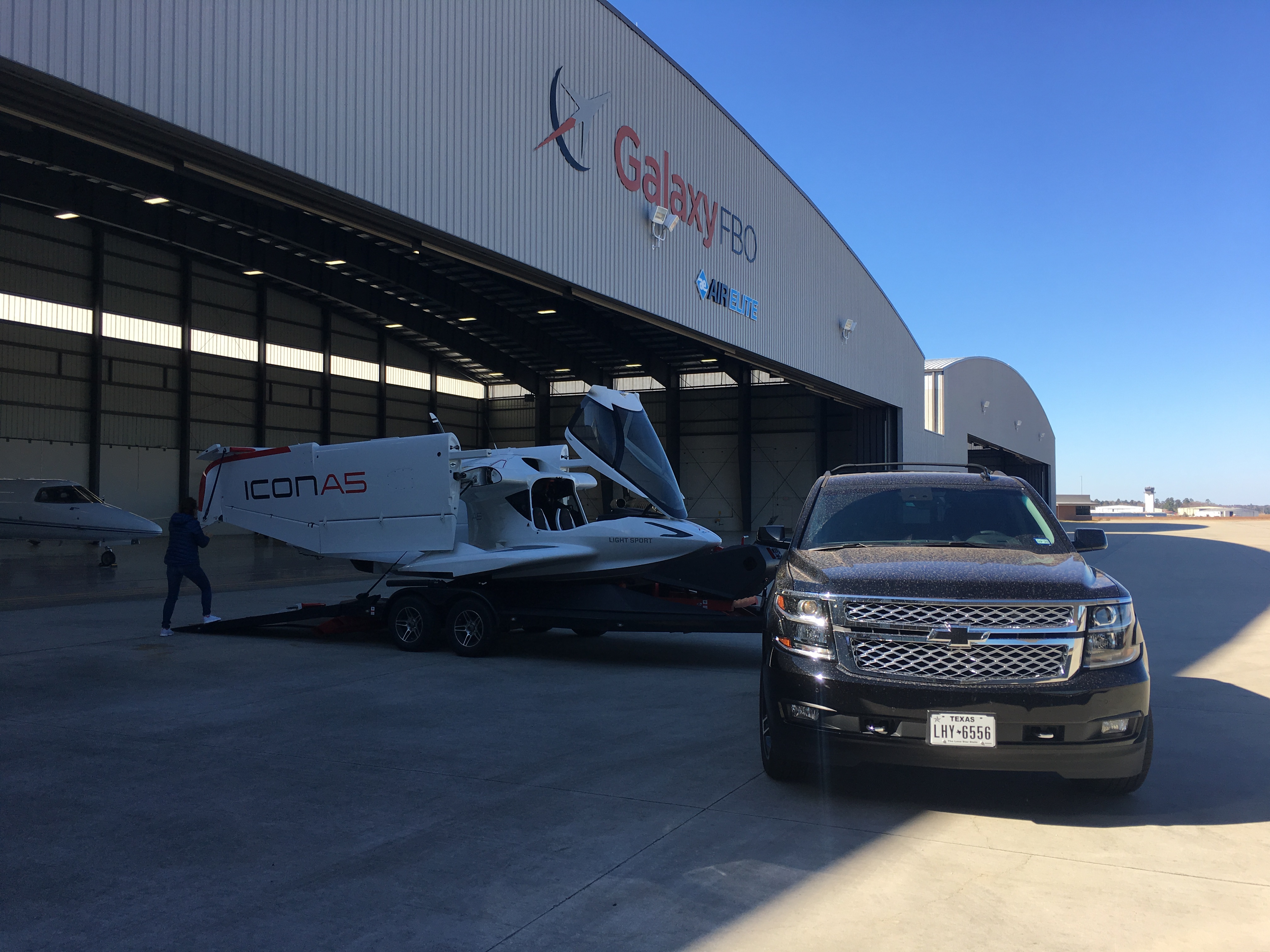 The ICON aircraft visited Galaxy FBO frequently in Fall of 2018 for demo flights. This amphibious aircraft features foldable wings and can also be 'driven' on a trailer!
---
Queen Air
The Queen Air was produced from 1960 through 1978. The aircraft is based on the twin bonanza, with a larger fuselage, and is the base for the successful King Air. You can easily recognize the early models of this aircraft with its straight, unswept tail.
---
1947 Bellanca Cruisair Model 14-13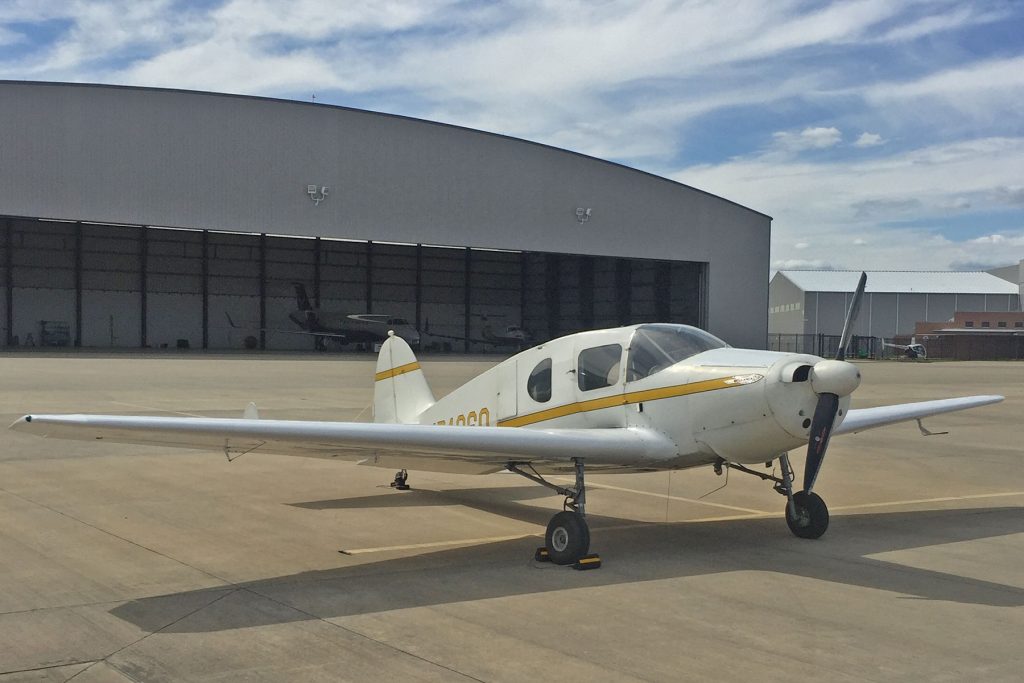 The Bellanca Cruisair was first manufactured after World War II, with variants being produced through the 1990's.
---
Dash 8
Introduced in 1984, the Dash 8 has been owned by de Havilland Canada, Boeing. Just under 700 classic Dash 8s were produced and this program is currently called the Bombardier Q400 series.
---
C-130J Hercules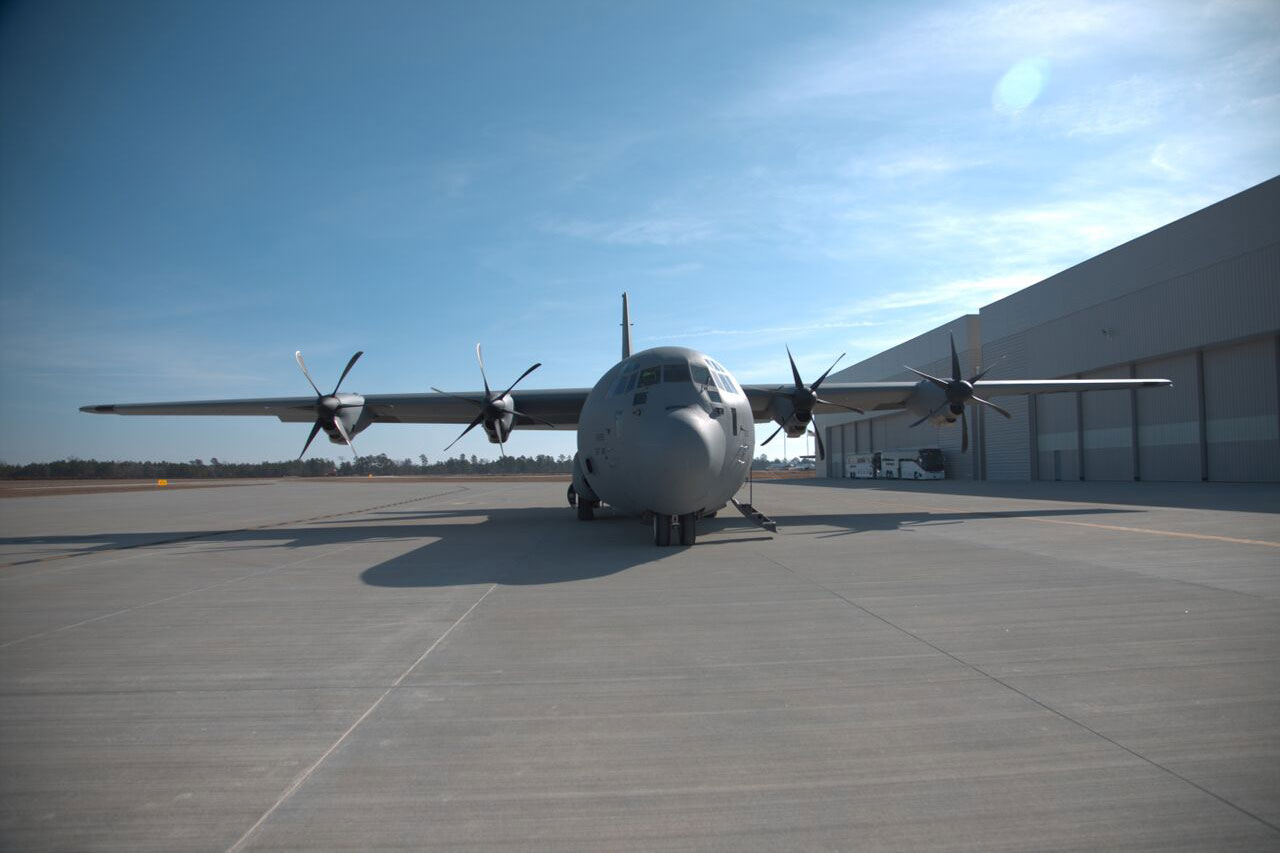 The Lockheed C-130 is the longest continually produced military cargo aircraft in the world. In 1996, the C-130J Super Hercules edition was introduced featuring the latest technology improvements and only 400 is produced so far. Galaxy FBO helped support a C-130J Super Hercules for the USAF Paradrop Operations in early 2018.
---
Gyrocopters
View this post on Instagram

It's not very common to see a gyrocopter at the Galaxy FBO, and when we have more than half a dozen on the ramp, now that's quite a scene! Texas is the home for many gyrocopter enthusiasts, and if you'd like to be one, check out the Lone Star Rotorcraft Club to find other gyrocopter pilots!
---
Beech Starship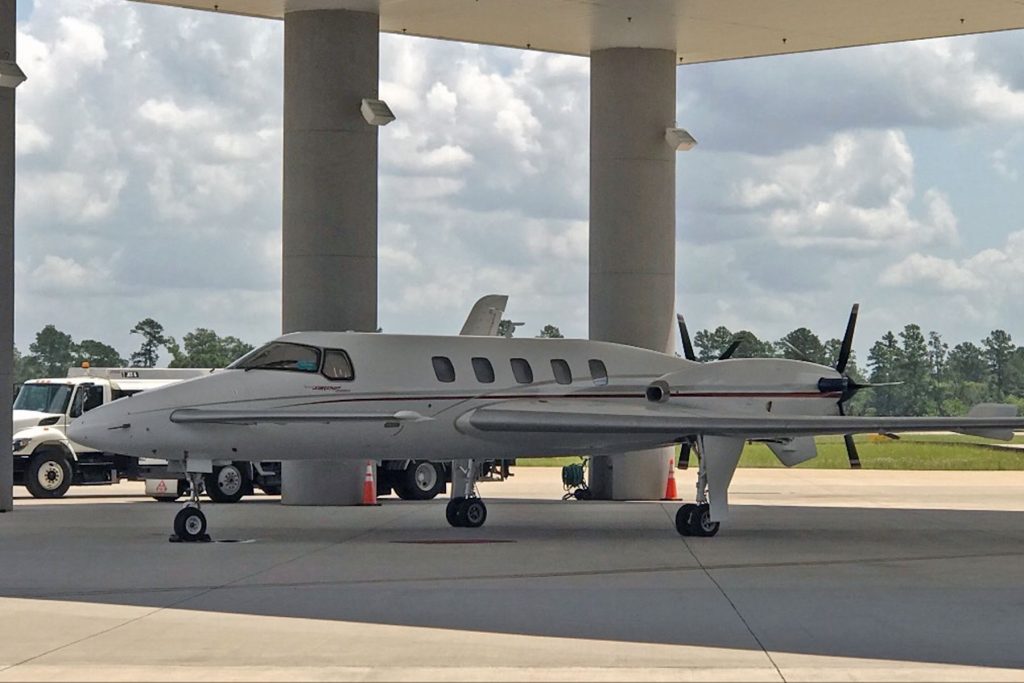 The Starship was the first civilian aircraft to be certified by the U.S. FAA with such a large amount of carbon fiber composite being used. The Starship is noteworthy for its canard design, lack of centrally located vertical tail, and pusher engine/propeller configuration.It was produced from 1983 through 1995, with only 53 built.
---
Dassault Falcon 8X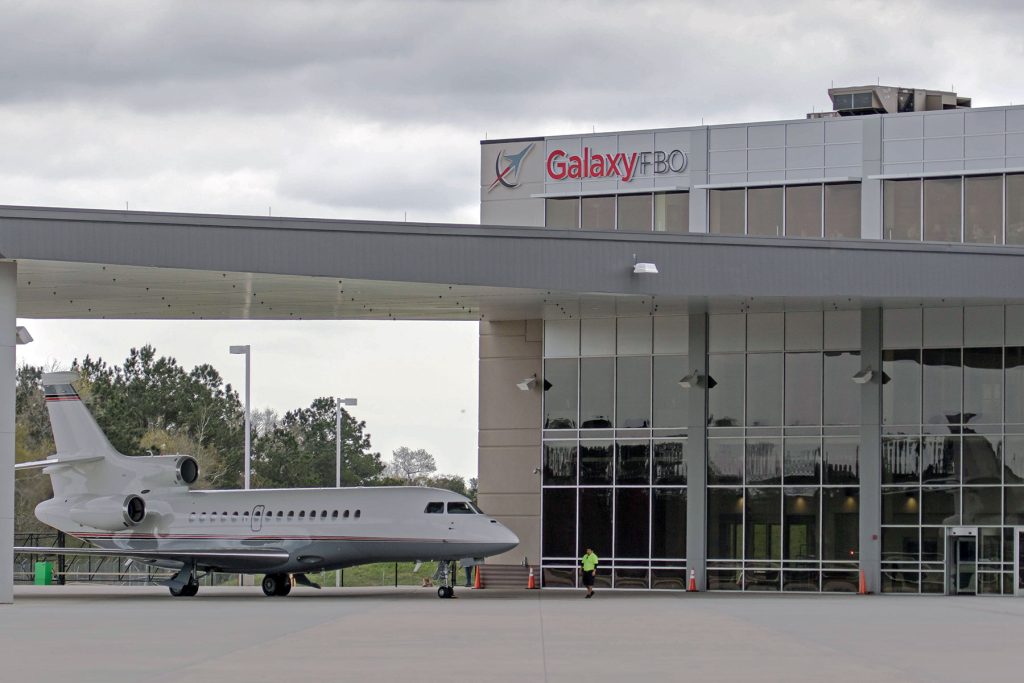 Unveiled in 2014, the Dassault Falcon 8X is an ultra-long range business jet capable to travel over 6,000nm. With the U.S. Customs at the Conroe North Houston Regional Airport, this aircraft travelled all the way from Europe non-stop to North Houston.
---
Bombardier Global 5000 and 6000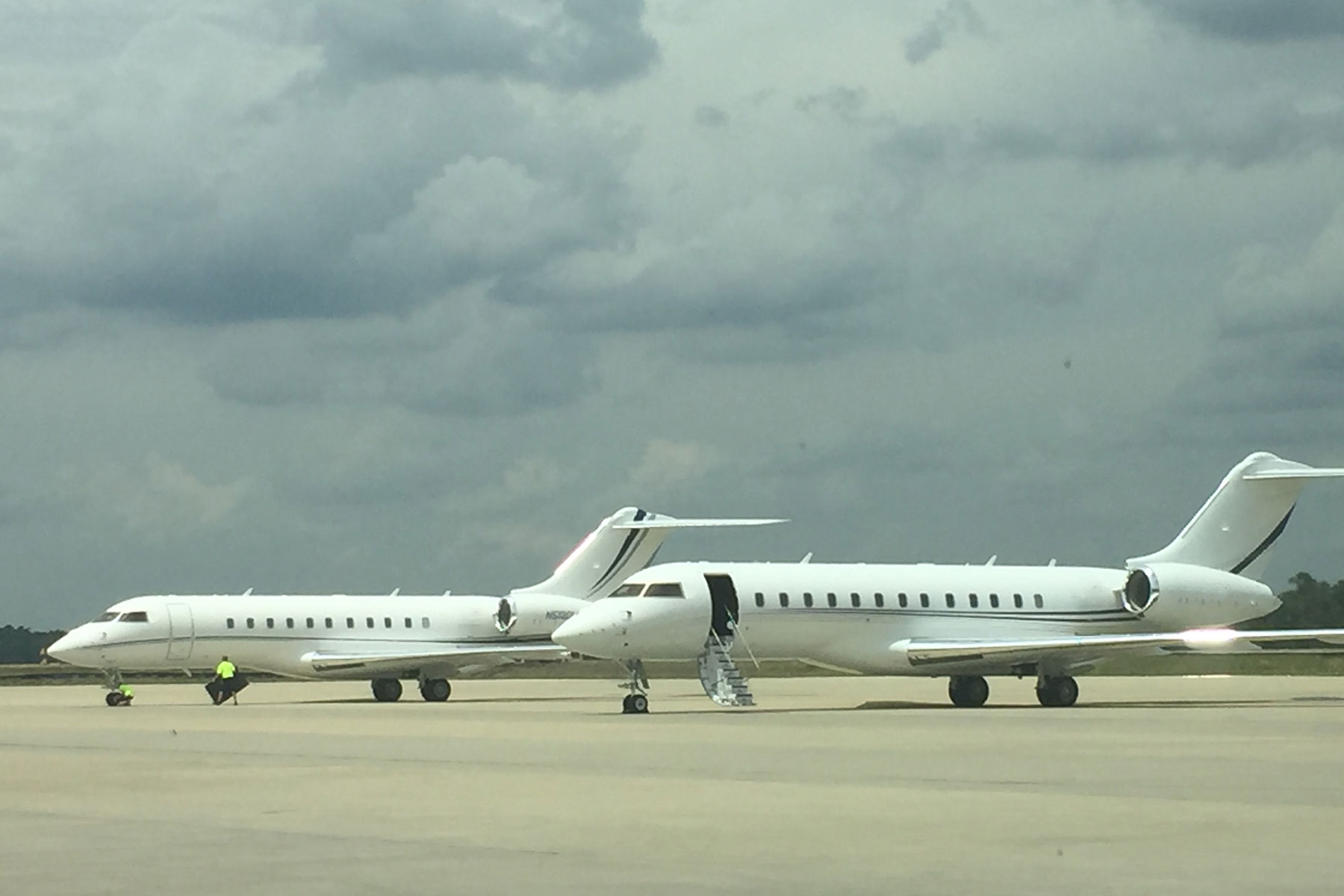 The Global series large cabin, long-range business aircraft from Bombardier dominates the skies since its first introduction in 1996. As seen on our ramp, the Global had two variants until recently, the 5000 and the extended cabin / longer range 6000. The Global series is being renamed to 5500 and 6500, with even a more capable 7500 added to the product line. The Global 7500 is accepted to service in December 2018, and we now hope to see the trio on our ramp in the years ahead.
---
EADS HC-144 Ocean Sentry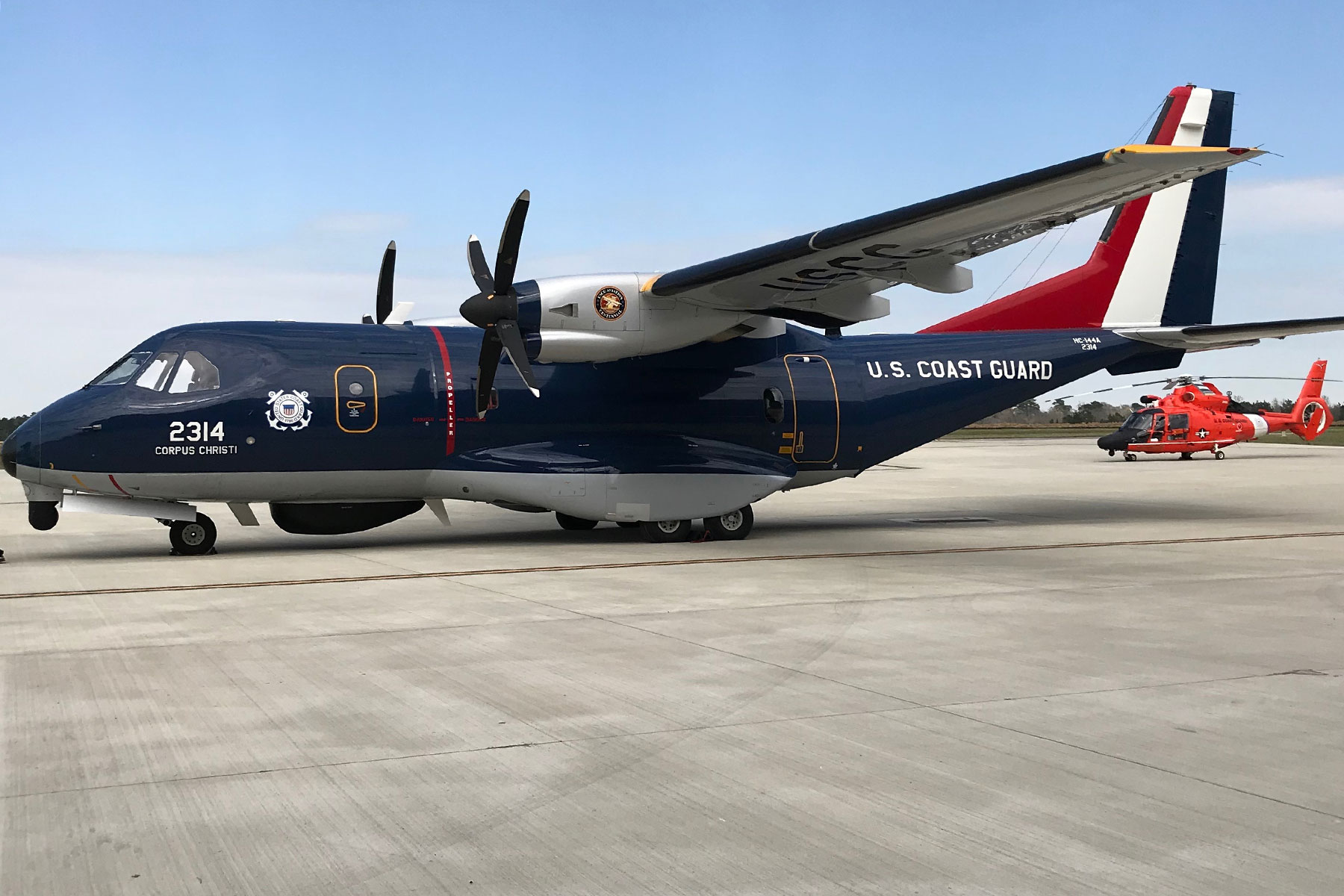 This EADS HC-144 Ocean Sentry is one of the medium-range, twin-engined turboprop aircraft used by the United States Coast Guard in the search-and-rescue and maritime patrol missions. With only 18 HC-144s in service by the Coast Guard, this one has a special blue livery.
---
Cirrus Vision Jet SF50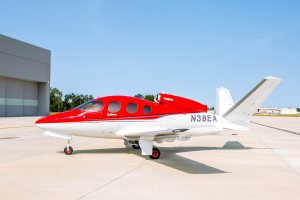 The Cirrus Vision Jet SF50 is the first civilian single-engine jet to receive certification from the FAA. The Cirrus Vision Jet is easy to spot with its tail mounted engine and V-tail design and holds up to six passengers. Galaxy FBO based EvolveAir is one of the first operators in U.S.A with the Cirrus Vision Jet SF50.
---
1947 Cessna 195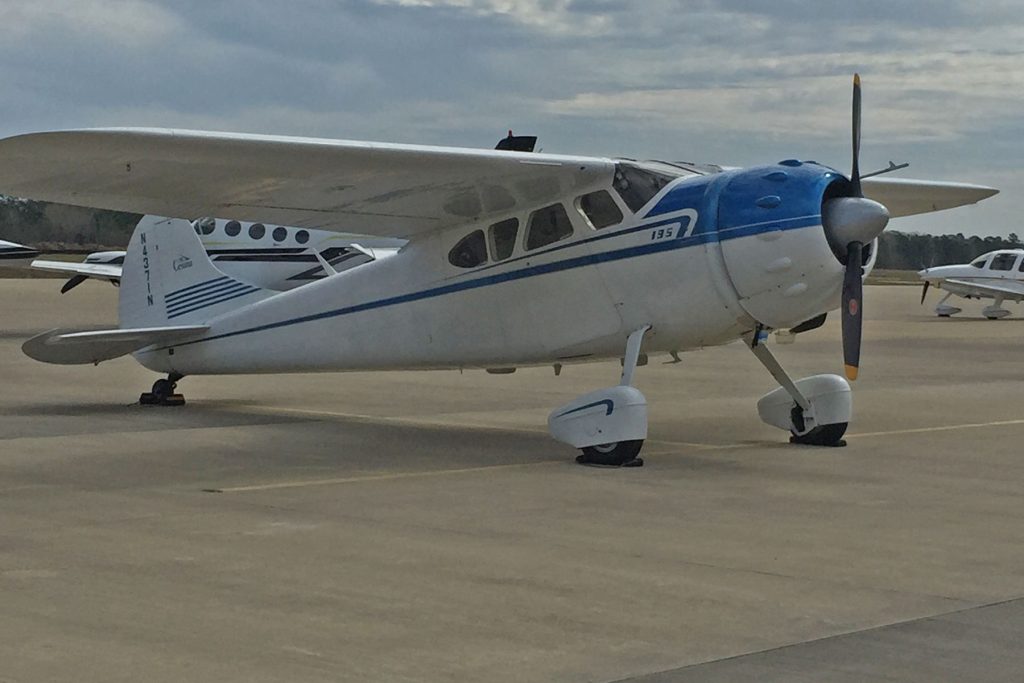 Manufactured between 1947 and 1954, the Cessna 195 was the first Cessna aircraft to be constructed completely out of aluminum. The 195 has a four passenger capacity and a max speed of 178 mph.
---
US Army Golden Knights Parachute Team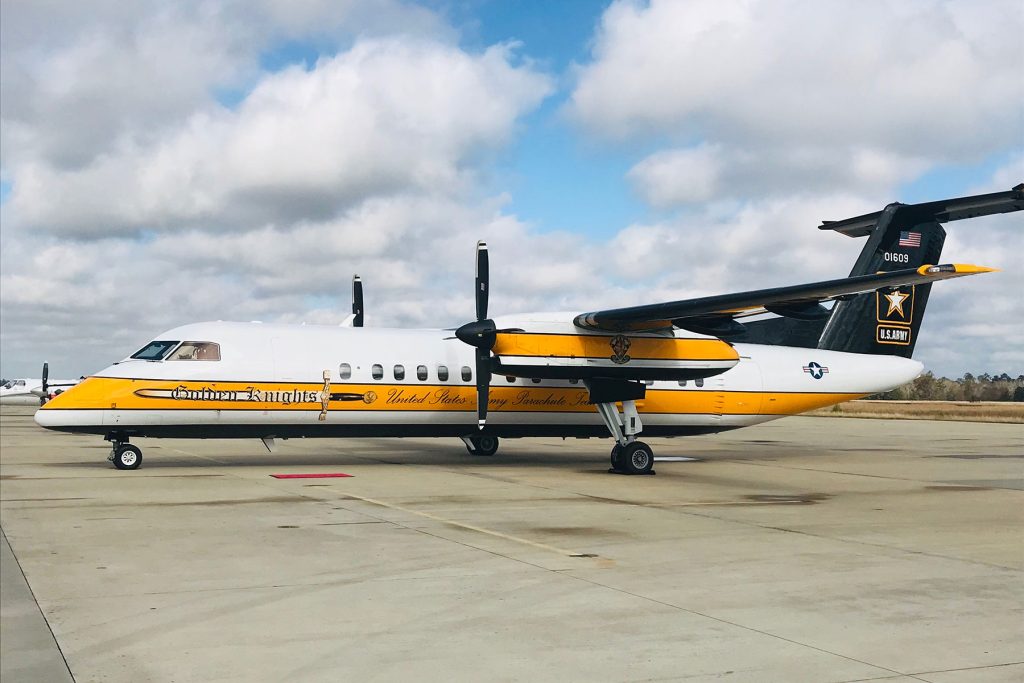 In 1959, 19 Airborne Soldiers formed STRAC with the goal of competing in the relatively new sport of skydiving, earned their nickname of the "Golden Knights". Today, there are two, 12-member Golden Knight demonstration teams travel around the United States (and occasionally overseas) 240 days per year, performing for public audiences at venues ranging from relatively small civic events to nationally and internationally televised events (such as Monday Night Football games, NASCAR races, and large international airshows). Visit Go Army Golden Knights Website for a list of their upcoming schedule.
---
Sikorsky UH-60 Black Hawk
@GalaxyFBO is supporting an ongoing effort to transfer 150+ Nursing Home residents from Port Arthur to Conroe #HarveyRelief #HoustonStrong pic.twitter.com/QQ6tYsZ1pI

— Galaxy FBO (@GalaxyFBO) August 31, 2017
With more than 4,000 in service, it's not so uncommon to see a Black Hawk on the Galaxy FBO Ramp. And as you recall, the UH-60 provided essential support during the Hurricane Harvey Rescue & Recovery operations. What makes 2018 so unique for the Black Hawk is the 40th year Anniversary of this helicopter. Congratulations UH-60!
---
Embraer Legacy 600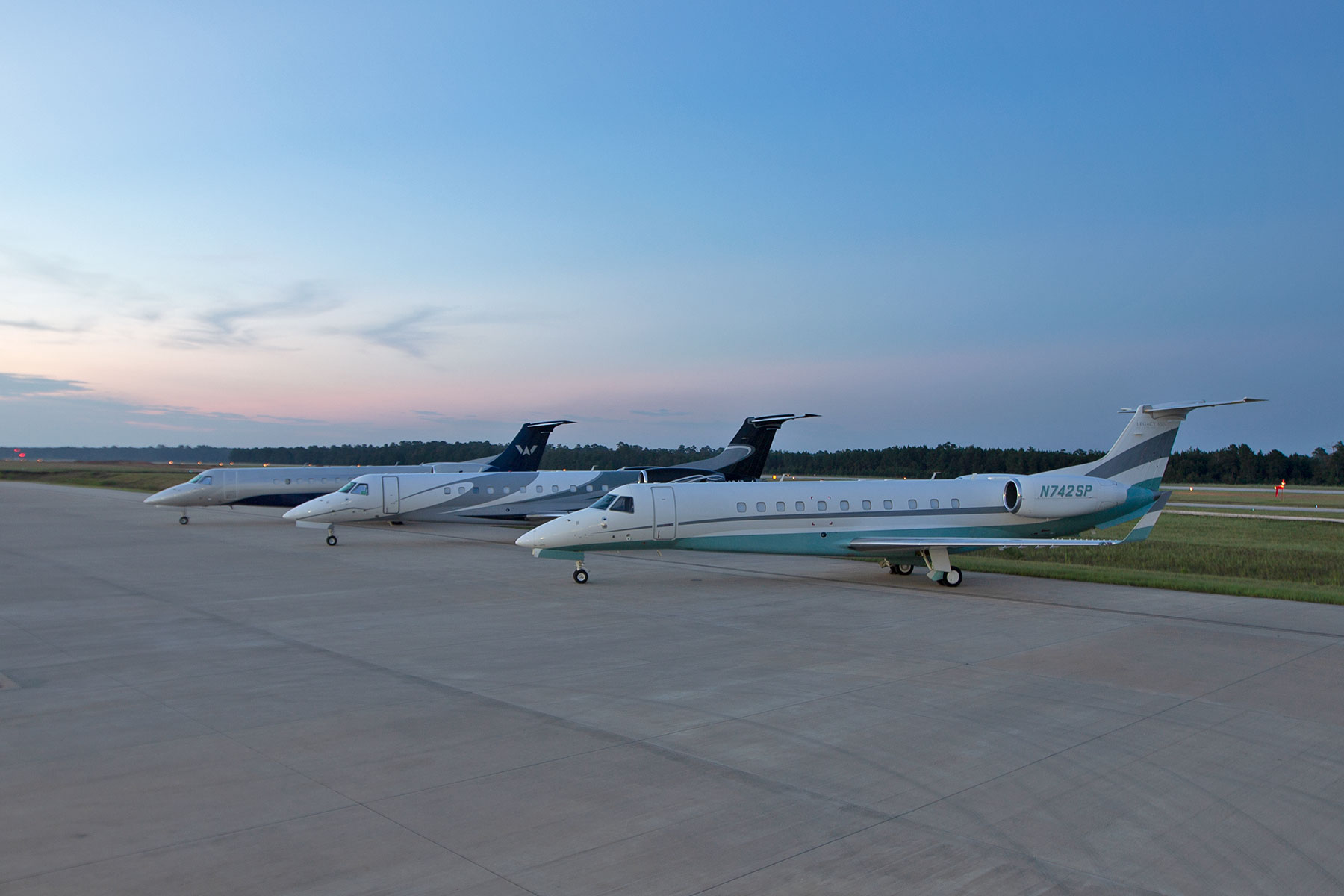 Embraer produced over 280 Legacy 600 Business Jets, based on their proven regional Jet ERJ-135. Wing Aviation is one of the largest Embraer Legacy charter operators in United States, with multiple aircraft based at Galaxy FBO. You can see these charter work-horses at the Galaxy FBO ramp regularly, but to line three of them next to each other was unique even for us!
---
Raytheon T-1 Jayhawk
View this post on Instagram

The T-1A Jayhawk is a medium-range, twin-engine jet trainer used in the advanced phase of Air Force Joint Specialized Undergraduate Pilot Training for students selected to fly strategic/tactical airlift or tanker aircraft. It is used also for training Air Force Combat Systems Officers in high and low level flight procedures during the advanced phase of training. Galaxy FBO provides special military offers.
---
We look forward to seeing these and many other unique aircraft throughout 2019 at Galaxy FBO. Head up to the Black Walnut Cafe to spot some of these aircraft on our ramp.